DT6 Versions: Basic & Pro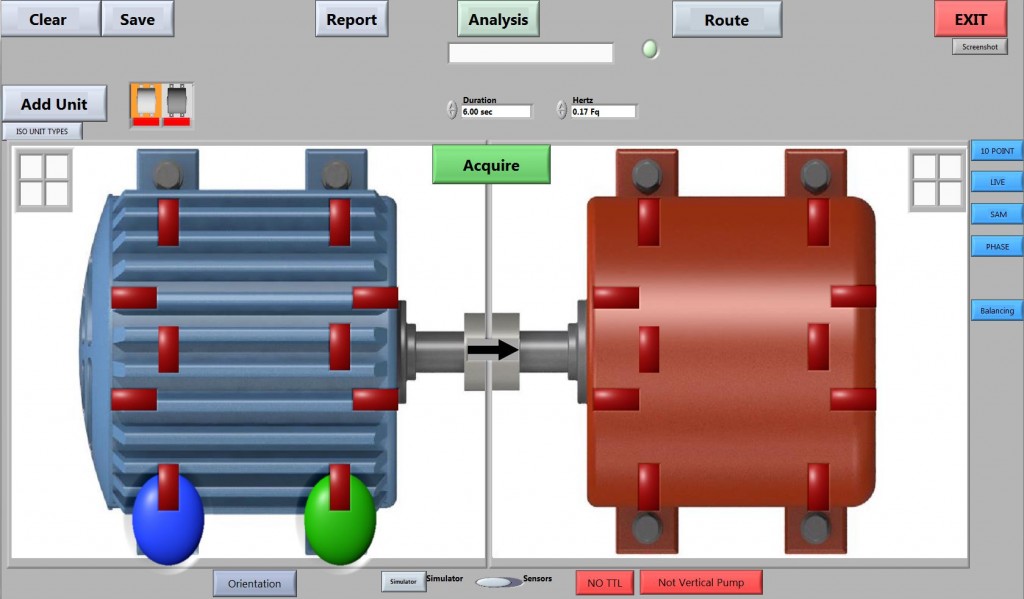 For those who think better visually, the New DT6 adds a powerful animation feature to both basic and pro versions.
The amplitude and phase data is used to create an animation of the actual shaft movements between two machines, complete with the orbit trace on each end. This powerful visualization helps managers and analysts alike understand how the machine is moving and why a given root cause is correct.
DT6 Basic Features
Future-Proofed* Windows based software that includes Acquisition, Time, Frequency and Phase panels, Analysis Suggestions & Statistics.
Powerful Analysis Panel
An intuitive, powerful, and unique panel for analyzing the raw vibration data. Don't waste any more time by returning, then waiting for raw data to be dumped from one machine to another. Instead, take advantage of the powerful analysis panel included in the instrument. Starting with the use of a Discrete Fourier Transform, instead of the popular Fast Fourier Transform; seeing all of the familiar Industry-Standard controls & tools; and even going as far as letting the analyst LISTEN to the vibration you will find that the DT6's analysis capabilities far surpass most, if not all, instruments at such a low cost.
Intelligent Suggestions Panel
A complex point system shows the user the different influential aspects of the DT6's phase synchronized data. The intelligent suggestions panel will indicate to ANYONE, vibration expert or not, the MOST likely root cause of vibration (either Imbalance or Misalignment). The DT6's point system will even recognize vibrations that show the characteristics of being in resonance and bring that to the user's attention.
Live Sensor Orientation Correction
Ensures perfectly accurate data from the vertical/horizontal/axial channels by showing real-time sensor orientation corrections in all directions. The process is incredibly quick and easy to use, but drastically increases the end results of each of the Vertical/Horizontal/Axial vibration amplitude measurements as well as improves phase accuracy.
Amplitude & Phase Animation (APA)
This once PRO feature includes various 3D controls to view shaft the animation & then study the end-to-end orbit traces of coupled shafts. These animations lead to a much more clear and intuitive understanding of phase relationships not only for analysts but for mechanics and managers as well. Phase is necessary to get a "Full Picture" understanding of machinery vibration, let the DT6 take care of the difficult parts for you!
Comprehensive Vibration Simulator Module
Use the DT6 as it was originally intended: as a tool for training. Our vibration simulator has been developed over the last 25 years and is sure to exceed your expectations.
Microsoft Surface Pro 4 Tablet
Intel (Latest Gen) i5 or i7 Core, 4GB-16GB RAM, 128 – 500 GB SSD
Other tablets Options Available
2 Tri-axial 3 Channel Sensors with Interchangeable Magnetic Base
7 ft- 30ft Cables Available, Junction Box with USB connection, and Laser Tachometer Compatibility
FREE
UPDATES FOR 1 YEAR AFTER PURCHASE DATE
*The DT6 is "Future-Proofed". By using Windows software, and USB ports for our instrument, we are not limited by a custom box. Your DT6 will not need to be "replaced", just updated.
DT6 Pro Features
Includes all basic features plus...
Two NEW Data Acquisition Methods
System Alarm Monitoring (SAM)
The DT6 becomes a portable, and temporary constant monitoring/alarm system. Set the desired alarm bands and levels, then whenever the system measures a fault exceeding an alarm level, it saves all data from the last 60 seconds and continues on. This is invaluable for spotting transient vibrations, noticing system irregularities, and catching those critical signs of failure before it's too late!
Live Data Mode
Real-time vibration data straight from the sensors to your screen. Quickly and easily perform bump & soft foot tests, resonance checks, watch for irregularities, or notice a major problem for the first time! Live Data Mode will save ALL raw data while running, once something is pointed out the data may be viewed, trimmed, and even stitched together in the analysis panel or ANY other analysis program. Even LISTEN to the vibration data as it comes in using available headphone 3.5mm jack or Bluetooth compatible headphones.
Machinery Asset Database & Route Runner
Run your entire program off the DT6. Our easy to use and comprehensive Asset Database is actually a portion of our Encompass™ Suite, or original software designed for running PDM a program! With a "Route" button on the home screen, it is easy to get going. Go "Off Route" at any time to work on machines outside of your route, then easily pick right back up where you left off. Asset Database starts with Company>Country>Location>Plant> etc so it is ready for even the largest asset databases. Using the Wifi capabilities of the tablets can allow route/database information to be easily shared/transferred between instruments and users. Easily use the database to create future routes.
Orbit Analysis
This plot lets the user to define the section of interest in the time waveform as well as the number of orbit traces overlaid on each other. Additional controls enable a variety of visualizations of the readings orbit traces which help the analyst understand actual shaft motion.
Waterfall Plot
Describes the trends of a channel over time. The waterfall plot has full 3D navigation controls that allow the user to easily identify common machine trends over time.
Laser Tachometer
Using some customized hardware we have enable compatibility for a Laser Tachometer. We currently use an advanced accelerometer that does NOT require tape or a marking to take a measurement. This means, no more shutting down your machines to take readings. This Laser Tach will add to phase accuracy, and work with our Field Balancing Module which is coming soon!
Additional Sensor Compatibility
These Sensors are compatible with both DT6 BASIC & PRO Editions
High Frequency Transducer
The High Frequency sensor is a single channel, piezoelectric accelerometer that can integrate fully with the DT6 system through the existing USB interface. Easily capture high resolution readings on vibrations OVER 8000Hz.
Field Balancing
The long awaited TrueBalance Field Balancing Software is finally available on our DT6 Vibration & Phase Analyzer. Using the compatible laser tachometer the DT6 becomes a balancing/alignment instrument. Balancing will be available as a SEPARATE module,  and will be available on either PRO or BASIC version of the DT6.
This application will allow the person to run balancing analysis for a Single Plane, Dual Plane and Perform Trim Balancing on both of them. It includes the ability to use the DT6 provided sensors, or the ability to manually type in numbers if the values are known. The system provides ISO and API balancing tolerances and can perform both regular and 4 run no phase methods for determining balance. Other features include weight splitting, reporting, metric and imperial units, rotating protractor or rotating reference mark, and Influence Coefficients and Net Imbalance Phase plots.
The DT6 is a complementary tool that is unrivaled in both its power and capabilities. We are constantly adding functionality based on popular demand. So what makes the DT6 so unique & powerful? Keep reading, it could save you time & money in the not so distant future.
Use the links below to continue learning what makes the DT6 so unique & powerful